---
Making Sparks Together - March 2019
King of the Hammers Recap
We made the desert our home in February for the Ultra4 event known as the most-punishing race in North America – the 2019 King of the Hammers. A team of welding experts and the crew from LetzRoll Offroad Racing were on site all week to assist with repairs, and each pit stop along the course was stocked with ESAB welding and cutting equipment to help get drivers back on the road.
The ESAB tent in Hammertown was buzzing all week. Visitors had the opportunity to demo some of our most popular equipment, including the Rebel EMP 215ic and the Thermal Dynamics Cutmaster 60i. Some drivers even had the once-in-a-lifetime experience of watching Ian Johnson from Big Tire Garage perform repairs on their buggies. The Ladies Offroad Network also hosted a Ladies Day event at our tent for women at King of the Hammers to learn about welding and get under the hood for themselves.
Unfortunately Andrew McLaughlin from LetzRoll Offroad Racing did not finish the race. He was unable to see the course after the lights on his buggy were broken during a roll.
---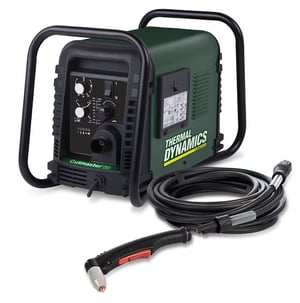 The Thermal Dynamics Cutmaster 58 is the latest addition to the Cutmaster family. It's the most powerful ½ inch machine on the market – capable of slicing through mild steel, stainless steel and aluminum with ease. And with multi-voltage (208-600 V) and multi-phase capability, Cutmaster 58 is the perfect combination of trusted design and the features you need for superior plasma cutting.
Key Features:
Built for portability and durability with the integral multi-handle design

SL60QD 1Torch quick disconnect with ATC® (Advanced Torch Connector)

5/8 in. recommended cut capacity with greater than 1 in. maximum cut and 1/2 in. pierce rating

Industry leading 4-year warranty on power supply and 1-year warranty on torch



---
At ESAB, we're more than just machines and products for welding and cutting.
On March 25, we are starting a new series on our social media channels to highlight some of the different people who work hard to make sure you have welding and cutting equipment that performs for you. You'll get to know product specialists, engineers and more from across the ESAB family of brands and the world.
Click on the different icons below to make sure you're following us.







---
We know you do great work! Tell us about the metal masterpieces you've created with ESAB or Victor products.
Send your story and details along with photos to marketing@esab.com.
---
Throughout the year, ESAB partners with popular manufacturing publications to discuss application techniques, breakthrough products and current industry trends. Check out our articles for January 2019:
---
Follow ESAB on social media for the latest on product news, tips and giveaways.
---
1-800-ESAB-123
(1-800-372-2123)
Online: Contact ESAB