---
Making Sparks Together - April 2019
Win a Complete Welding Package with the Weld It Forward Giveaway
We're celebrating National Welding Month by giving back to welders and the next generation. Enter the Weld It Forward Giveaway for your chance to win a complete welding package!
One lucky winner will receive a Rebel EMP 235ic, Rebel cart and SENTINEL A50 welding helmet. Plus – the winner will have the opportunity to select a school to receive a welding package that includes a Rebel EMP 235ic, Rebel cart and TEN SENTINEL A50 helmets.
Don't wait – the Weld It Forward Giveaway closes on April 30.
Winner will be announced on the ESAB North America Facebook page on May 3.
Enter here.
---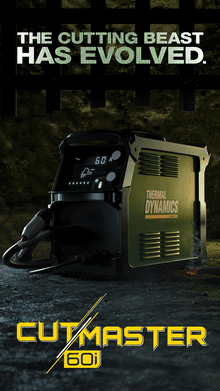 The Thermal Dynamics® Cutmaster® 60i is more ferocious than ever before. With stronger features and an unmatched power-to-weight ratio, this plasma cutter is ready to get the job done right.
The Cutting Beast now features:
Vicious Cutting and Piercing. 16.6% more cut and pierce capacity gets your job done faster and cleaner. Cutmaster 60i can now cut and pierce up to ¾ inch and sever up to 1 ½ inches.
Greater Portability. At more than 20 pounds lighter than the competition, Cutmaster 60i gives you the portability to dominate the most demanding jobs.
Maximum Productivity. Be ready to cut right out of the box. Cutmaster 60i comes with a full set of 60A consumables and new Cutmaster Black Series extended life consumables for 60% longer consumable parts life and excellent performance that lasts.
Generator Reliable Performance. Power factor correction eliminates issues caused by power fluctuations and spikes that occur when connected to a generator.
The new Cutmaster 60i is also available with a MechPak mechanized package for easy integration into semi-automatic cutting processes.
Are you ready to unleash the BEAST? Learn more here.
Want a chance to win? Be sure to check out the ESAB North America Facebook page on May 1 for details.
---
We know you do great work! Tell us about the metal masterpieces you've created with ESAB or Victor products.
Send your story and details along with photos to marketing@esab.com.
---
Throughout the year, ESAB partners with popular manufacturing publications to discuss application techniques, breakthrough products and current industry trends. Check out our articles for January 2019:
---
Follow ESAB on social media for the latest on product news, tips and giveaways.
---
1-800-ESAB-123
(1-800-372-2123)
Online: Contact ESAB