ENTER FOR A CHANCE TO SCORE THE PERFECT COMBINATION.
In March, filling out your bracket is all about picking the right combination. When you get ESAB on your team, selecting the perfect welder and filler metals doesn't require as much luck to be successful.
Play each week in our ESAB Bracket Challenge, and select your top welder/filler metal combination for each matchup.
First Round: March 13-19

Semifinals: March 20-26

Finals: March 27-31
Will your favorite pair survive and advance to the end? The combinations with the most votes for each matchup will move on. Vote in each round for your chance to win the final combination for your shop.
---
First Round
Eight different welders and filler metals have been paired against each other. View the scenarios for each matchup and select your winning combination for the task listed.
The winner for each process will advance to the next round.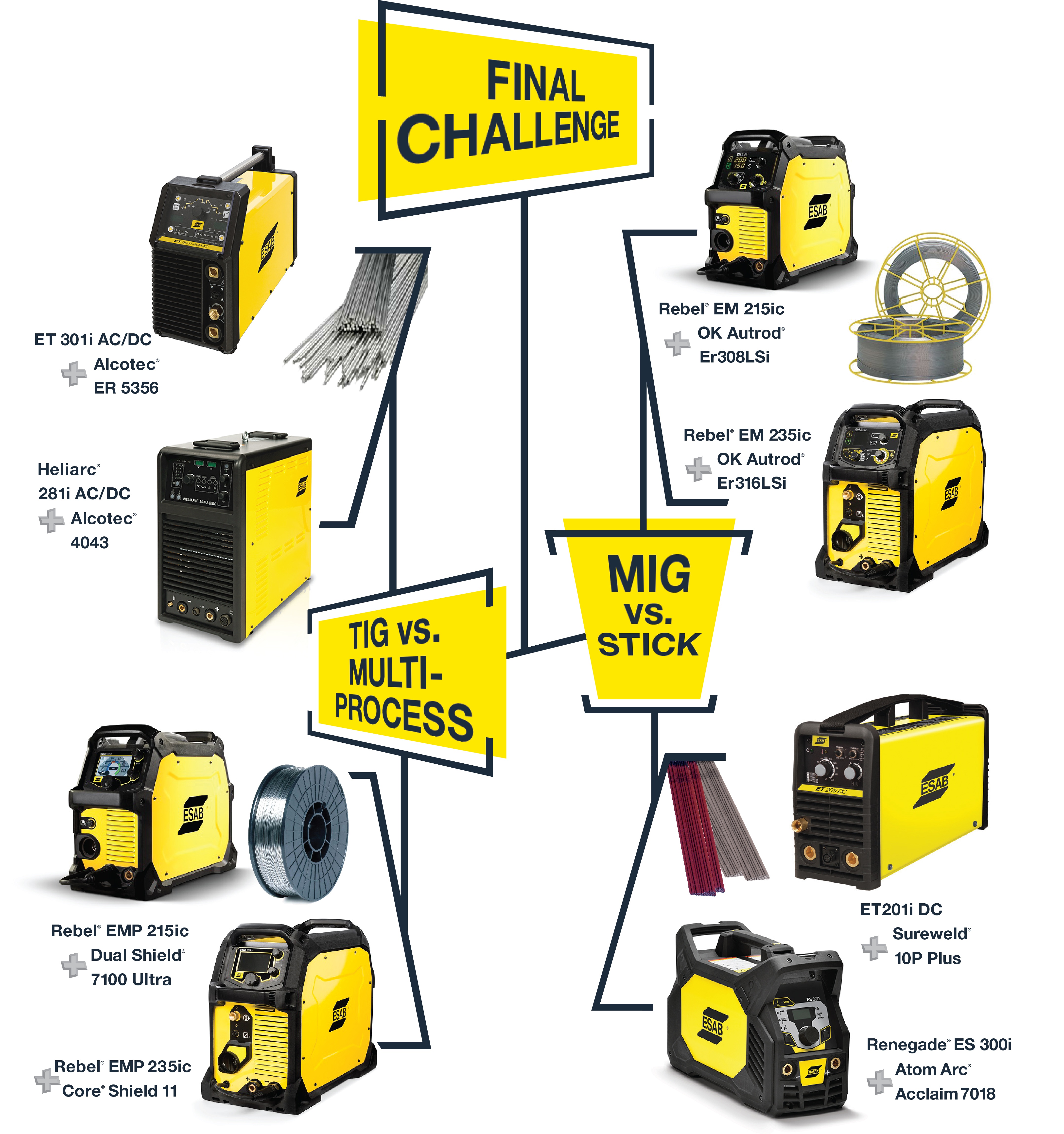 TIG: ET 301 AC/DC + Alcotec® ER5356 or Heliarc® 281i AC/DC + Alcotec 4043
Scenario:
You're tasked with fixing the damaged nose cone of an aluminum pontoon boat brought into your shop. Attention to both appearance and strength are a requirement in this application. Both combinations can accomplish the task, but which is your pick to weld aluminum?

Multi-Process: Rebel™ EMP 215ic + Dual Shield® 7100 Ultra Or Rebel EMP 235ic + Core Shield® 11

Scenario:
A friend knows you're a welder, and they've asked you to help them with constructing a steel spiral stairway for their new home. What combination of multi-process welder and flux-cored wire are you going to use?

Stick: Renegade® ES 300i + AtomArc Acclaim 7018 or ET 201 DC + Sureweld 10P Plus

Scenario:
The plow on your neighbor's farm needs some serious work to get back up and running. You've got to weld in the field, and the conditions are dirty. What combination of STICK machine and filler metal are you taking with you?

MIG: Rebel EM 215ic +OK Autrod® Er308LSi Or Rebel EM 235ic + OK Autrod Er316LSi

Scenario:
A local brewery in town is having issues after a truck ran into one of the beer tanks. They need you to patch the hole. What's the winning combo for this stainless steel project?
Be sure to vote in each round for your chance to win the final combination for your shop. Set your reminder to check our Facebook page on April 2, where we'll announce the winner.
Valid in US and Canada only. Click here for Official Rules.