Enter our Monthly Giveaway For Your Chance at an Amazing Swag Bag and to Discover Careers in Metalworking!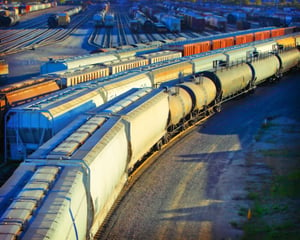 The railroad has been a transportation staple around the world for centuries. Technology has changed and improved over the years, but there are still many different career paths involved in getting these massive steam engines rolling.
Metal Mentors is helping students discover the rich opportunities available in metalworking by highlighting the jobs that are necessary to produce items we all recognize. Check out some of the career possibilities below, and select your favorite for the chance to win a swag bag. You can also visit the AWS website to connect with educational, scholarship and career opportunities.

Different items and careers will be featured regularly, so check back often!
---
Plasma Cutting Operator—Plasma Cutting Operators use ionized gas to cut through electrically conductive materials like steel, stainless steel, aluminum, brass and copper. Operators must be highly skilled in using CNC controlled machines that are ideal for work with the thick steel plates used for the body of a rail car. FMA
Turret Punch Press Operator—Punch Press Operators produce parts from metal and other materials by using CNC equipment to make precision cuts, grinds and punches. These parts are used in the construction of the interior walls and ceiling panels of a passenger rail car. FMA
Press Brake Operator—Press Brake Operators operate CNC or PC controlled machine tools that are designed to make precision bends, punches or cuts into sheet metal or plate. They work from blueprints and digital plans of the finished product or pieces they will produce. Operators are responsible for loading the program to execute the design and adjusting the machinery to control factors such as speed. FMA

Painters—Painters are responsible for the manual and automatic application of industrial paints and coatings. Finished railcars are painted or powder-coated for both decoration and functionality. Painters work in manufacturing facilities that produce rail cars and must ensure the coating is applied correctly. CCAI
Finishing Line Manager—Finishing Line Managers are responsible for making sure all parts that are processed through a finishing or coating line are properly cleaned, painted and cured. They supervise other painters and all finishing area workers. For railcars, Finishing Line Managers work in manufacturing facilities and must have a good understanding of finishing processes. CCAI