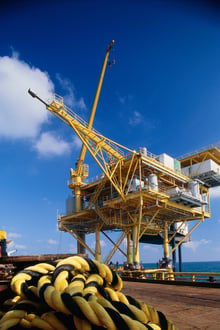 Enter our Monthly Giveaway For Your Chance at an Amazing Swag Bag and to Discover Careers in Metalworking!
Working on an offshore oil rig is demanding—often requiring risks, long shifts and living away from home for long periods of time. There are physical, social and personal sacrifices, but many find the reward of high pay, job security and career advancement opportunity worth the struggle.
Metal Mentors is helping students discover the rich opportunities available in metalworking by highlighting the jobs that are necessary to produce items we all recognize. Check out some of the career possibilities below, and select your favorite for the chance to win a swag bag. You can also visit the AWS website to connect with educational, scholarship and career opportunities.

Different items and careers will be featured regularly, so check back often!
---
Underwater Welder: Underwater welders combine arc welding and cutting expertise with intricate knowledge of diving procedures to effectively meet the demands of projects while in a marine environment. These positions often have a higher pay because they require certification in welding and commercial diving. AWS
On-Site Repair Welder: Welders are needed in many areas of an offshore oil rig. They are responsible for regular maintenance and repair work. Many of these roles require welding certification with gas, electric arc, MIG and TIG specializations. FMA
Off-Site Welder: Companies that provide fabricated tube, pipe and structural steel assemblies for off-shore oil rigs are always seeking welders. These workers must be able to read engineering drawings and precision measuring instruments while demonstrating skills in fabricating and welding processes. FMA
CNC Equipment Operators: Companies that provide parts for offshore rigs often employ workers to operate different machining centers and fabrication equipment. CNC equipment operators must be able to interpret engineering drawings to help produce parts within set tolerances. FMA
Certified Welding Inspector: The CWI performs visual inspection and nondestructive examination on welds to ensure the offshore rig is built properly and capable of withstanding the turbulence of the sea. The CWI must be knowledgeable on codes, procedures symbols, blueprint reading and welder qualifications. AWS